Wireless
G-Flame

System
---
Available To Hire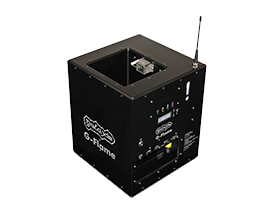 Flames bring shows to life and really can draw the audience into the performance. Spectacular to watch they also add another dimension with the radiated heat of the flames bringing crowds even closer to what's happening on stage.
On stage, at festivals and for TV and music videos, G-Flames are our most requested flame effect hire.
Able to produce fireballs and flame jets from 3m to 8 these excellent units can be run via DMX or run wirelessly via a Galaxis Conroller. They can be used with either internal cartridges or from propane cylinders with various nozzles to create different effects and varying flame heights.
Perfect for one-off events or tours, these machines are spectacular, responsive and very easy to control, yet still easy to rig and de-rig. They are also ultra reliable making them a joy to tour with.
These are a versatile system and we have used them as much off stage as we have on! In barrels on barges and for corporate events. The application for this effect is endless and always a popular favourite.

We prefer to supply these units with an experienced technician, but we will dry hire to professional users.
G Flame

Specifications

Size (LXWXH) - 30x30x35cm
Weight (KG) - 10.5kg
Control - DMX or Wireless DMX
Consumption - Spray Cans / Propane Gas Bottle
Max Distance - 4m-8m
Documents & Manuals
---